Conference & Meeting
Room Displays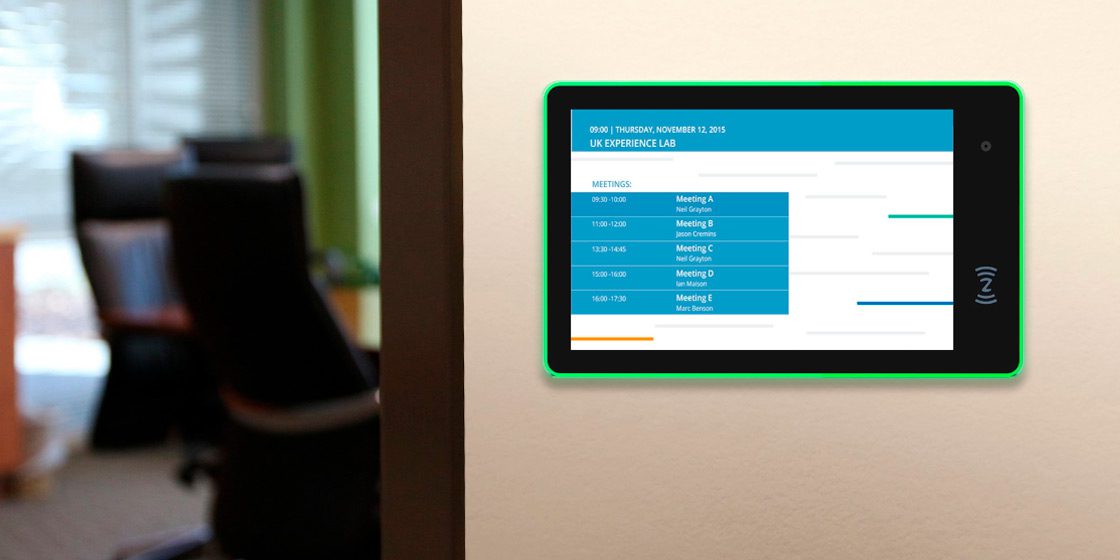 Geekland offers several models of Android OS all-in-one Conference & Meeting Room Displays with built-in PoE that are widely used by enterprises for conference and office meeting room booking and scheduling purposes. These Android units range from 7″ size to 12″ in size for the most common deployments. Customers have a choice of flush wall or on-wall VESA mounting options. Glass wall mounting option is also available.
Customer's typically installed their own meeting moom applications on these units such as:
a) Teem Meeting Room Displays
b) Robin conference room display
c) Room display from Gogetcorp
d)  Meeting room booking system from add-on
SEND US A MESSAGE
Please use the form to contact us online.
If you need immediate assistance, please call us.
Some key features of these meeting room displays include:
Built-in PoE (Power over Ethernet) support
These meeting room display units support built-in support for PoE (802.3af/at) which makes them ideal for deployment in facilities or locations where power outlets are difficult to reach. Simply connect the PoE/LAN cable to the back of these units to the LAN port and deliver both data and power. These PoE systems offer low cost alternative to other solutions where both a power cable and RJ45/LAN cable is required to interface to a tablet or panel PC. With less moving parts and built-in PoE support these units offer economical and highly secure means of managing meeting rooms.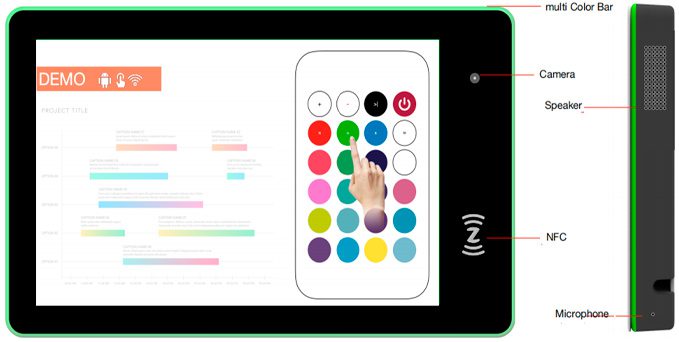 Other features of the units include:
a) Auto-start power on
b) WIFI & Camera
c) Proximity Sensors (optional) for detecting users and turning the unit on
d) Flush wall or Vesa (on wall) mounting
e) White/Black Plastic Frames or Stainless Steel/Aluminum
f) Optional NFC support for card reading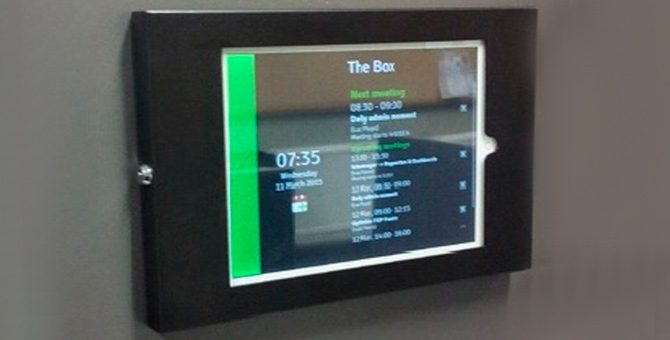 Android tablet with enclosure.
This model is useful if the customer has a preference to use off-the-shelf tablets that can be enclosed in a secure metallic enclosure.

This 10.1" Android POE Touchscreen Meeting Room Display with pre-installed 
Meeting Room Application
 delivers a fully integrated meeting room scheduling solution with real-time booking status with LED status indicator, calendar integration with Microsoft Exchange, Office 365, Google calender and more.  You get a 1 month trial application license after which you can purchase a  one-time renewable yearly license or 4 year licence.  Contact us for licensing and support options for the application. The Meeting Room Display  supports high resolution IPS screen with a resolution of 1280x800 and brightness intensity of 350 nits. The unit supports a built-in RJ45x1 port to connect to Ethernet swith or directly to a PoE(802.3at switch via a CAT5 cable. The unit can also be powered on via DC 5V. The unit supports several optional features such as front high resolution camera & motion sensor. The display has built-in VESA 75x75 mounting holes and can be surface mounted on walls using any standard surface mount VESA wall mount plates. You can also mount the unit on glass walls using 3M industrial strength double sided tape.